Project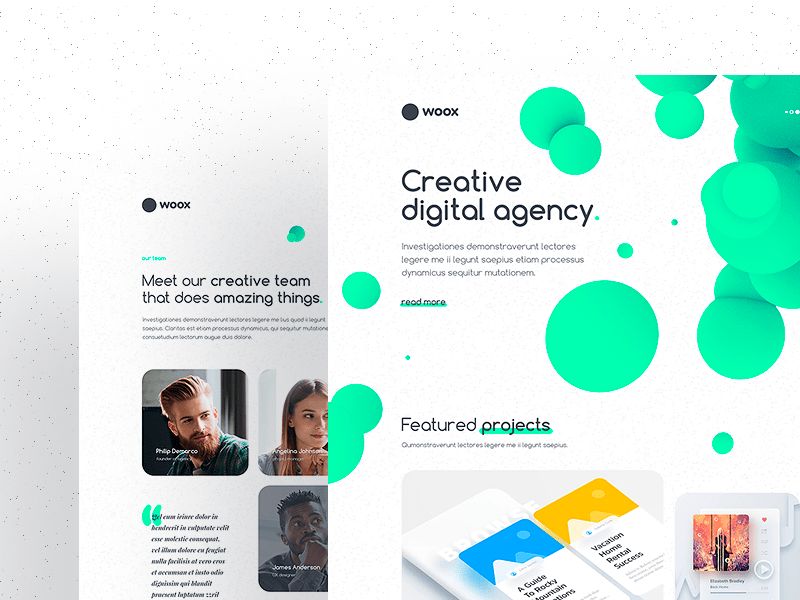 Woox is non-standard and creative idea for your projects. The expressive and bright template will highlight your project among others.
This template includes 70+ carefully designed pages in Adobe Photoshop CC, which are easy to edit and customize to fit your needs. The template is perfect solutions for the creation of unique web projects.
Great web design without functionality is like a sports car with no engine.
Paul Cookson
Services
Logo Design
Etiam convallis, diam vitae vulputate feugiat, mi dolor aliquet augue, in egestas justo magna a neque.
Landing Pages
Aenean consectetur ac quam et fringilla. Curabitur at vehicula massa.
Website Design
Nulla commodo velit at velit interdum accumsan. Curabitur mi nisi, ultrices a accumsan a, scelerisque a velit.
Other Design
Ut sollicitudin blandit elit, ut fringilla massa suscipit a. Sed in consequat purus.
Reviews
Aliquam sollicitudin purus nec sagittis lobortis. Aliquam erat volutpat. Etiam nec tincidunt lectus. Interdum et malesuada fames ac ante ipsum primis in faucibus. Cras viverra neque justo, non eleifend purus auctor facilisis. Vestibulum neque nisl, tempus id nulla sed, ornare consequat neque.